Kick-start your Mediumship Now!
Online Mediumship - Learn Mediumship in a very easy and practical way online.
This training is based on a unique perspective. The research, the knowledge about states of consciousness, and the development phases of mediums are at the basis of this training.
Online Mediumship Course
How I gained results fast
I was not an exceptionally good medium by nature! As a child, I had no Mediumistic experiences. My experiences were rather mystical instead. When I started with Mediumship around the age of 40, I had never had contact with a spirit. Not conscious in any case. I did not profile myself as a medium within Dutch circles. I rarely received invitations to practice or demonstrate. In short, I never ran "the extra mile" that you supposedly have to run as a medium to get ahead. Yet my Mediumship suddenly improved by leaps and bounds. I had an amazing breakthrough! My Mediumship changed and I was invited to do the admission to a very famous school for Psychic Science (a college) in the UK and am now an approved Tutor of Tomorrow.
No idea if you are a Medium?
I never objectively observed spirits. And this applies to many mediums. More than you would think.

Are you wondering if you are a medium? So did I!
"Mediums are regular people who developed their awareness. Or are born with a different awareness than the average person.-Suzanne"
Mediumship takes many years to develop. So, in the first years, I was really struggling. I can't tell you how many times I thought I would give up. Thinking maybe I wasn't a medium after all. Are you struggling with your Mediumship?

You are not alone!
"Mediums are able to be aware of the energy field emanating outside of the physical body (called aura) of someone here on earth. And of course the energy of someone no longer in a physical body. Those people we call dead. Mediums however call them spirits because we are aware that there is no such thing as death.-Suzanne"
So what changed? Or rather what made the difference?
Very simple, a few years ago I discovered how I could use my knowledge (as an Awakened Mind Trainer) and the results of a three-year-long study that I did, for my own Mediumship development.
learn to become aware of information

Everyone can learn to read information from the energy field of someone else. This is a natural ability that we all have. Most of us just haven't developed this ability.
Learn to communicate with spirit contacts
Imagine you can communicate with someones loved one. That you can actually prove this by giving information you could not have known.
Learn to cooperate with your own spirit team
Every medium works closely together with, what we call spirit guides. In time you will learn to get to know them and work as a team.
Introducing:
Online Mediumship training
with the Awaking Mediumship Method®
New!! the Awaking Mediumship Method

®
For three years I measured hundreds of mediums from more than twelve countries with EEG. The EEG measures, via the brainwave patterns, the medium's state of consciousness. I have measured inexperienced mediums, mediums with their own practice, international Mediumship teachers, and everyone in between. This research into states of consciousness of mediums was very valuable. It allowed me to see what happens in Mediumship development. I combined this with my knowledge of how to train those different states and my knowledge of Mediumship. This gradually resulted in a new method for Mediumship development: the Awaking Mediumship Method® (AMM).
The method is unique in the world.
Nowhere in the world are Mediums taught in this way. And of course, I am living proof that my method works. In 2021 I started teaching groups online according to this method for the first time. And with great results so far.
Yes, I want join!
Lise Lubbersen (DE)
"The classes with Suzanne brought me way further than I expected. In a personal way, in a professional way, and in a way, that expanded my connections and my view on literally my whole being. I really love Suzanne's way of teaching, her trust, her professionalism, her clarity, and her love. I absolutely recommend taking this step!"
Rebecca Dühren (DE)
"I have never had such a well structured -information-packed & helpful (Mediumship) course."
Ann-Sofi Carlborn
(FR)
"Thank you Suzanne for an extraordinary first trimester in Mediumship training."
You will...
learn to discover (and work with) your psychic abilities.
You will...
discover the difference between information you pick up from the field and your own thinking mind.
You will...
learn about the different ways you can "read" your fellow participants.
You will...
learn how to get in contact with spirit communicators.
You will...
have some practice and experience with specially designed exercises you will love.
You will...
have the opportunity to ask and get direct feedback in this live session!
This Online Mediumship training is different:
UNIQUE
This method is based on a unique perspective. The research and the knowledge about states of consciousness and the development phases of mediums are at the basis of this method. Never before has there been a Mediumship development method with a scientific background like this one.
LIVE
The practical training is live. So it's not online prerecorded teaching. That means you can ask questions and get direct feedback.
NO EXPERIENCE IS NEEDED ON THE STARTER LEVEL
The training is suitable for newcomers and inexperienced participants. You will receive tips and training on an individual level. Every exercise can be adapted to your level of development. So even if you have never done anything with Mediumship and you are just curious, you can still register. Just come and find out how extraordinary you are!
PRACTICAL
You don't have to learn whole theories. During the online training, the method itself is not explained in detail. That is not necessary. The structure and the exercises are designed according to this method and this can be applied very individually. The online training is simply a very practical training and completely focused on your Mediumship development.
ONLINE
The training is and will remain online training. All exercises are designed according to the AMMethod® and designed for use in an online environment. This is by no means a 'not so bad alternative' for group training on location. This is a totally different way of training.
Teaching
Regardless of the level, these are not just courses like most where you will learn how to use your Mediumship. You will actually train different things in a different way. For instance, 40% of the exercises will have nothing to do with the standard Mediumship exercises; in fact, they will have nothing to do with Mediumship at all. You will not be 'reading' anyone or making contact.
The AMMethod® is absolutely revolutionary in that way.
Live sessions
Depending on the choice you make you have 1,5 hours or 3 hours (intensive route) of live teaching each training session with Suzanne Tempel.
Practicing and training at home
And everyone is training on his or her own level. This is not regular group training. That means when you miss a lesson in a normal group training 'the group' is ahead of you. At least one session. This is not the case with this training. There is no group level. Only an individual level. You will receive advice and training exercises according to your individual needs.
In each live session, there is room for questions, and sharing of experiences and insights.
Meet Suzanne Tempel
Medium
As a Medium Suzanne is a tutor of Tomorrow at the famous Arthur Findlay College.
Awakened Mind Trainer
Suzanne is trained and educated to guide people to altered states of consciousness (higher and deeper states) with a scientific method developed by Professor Cade. She is one of the very few Awakened Mind Trainers in the world.
Researcher
Suzanne is researching states of consciousness of mediums for some years now. Both mental and physical mediums. She was allowed to measure some of the best worldwide known mediums such as Stewart Alexander and David Thompson. And in 2019 she was allowed to sit for six months with the circle of physical medium Nicole for research purposes. Many more training and developing mediums participated and one day she hopes to share the results with the world. This is ongoing research. One of the amazing things she has found Suzanne shares in an interview in 2018.
Leslie Kean's ground-breaking book, Surviving Death, is a top 5 NETFLIX series and portrays some of the best Mediums in the world. Suzanne is also featured in the film as a researcher connected to a Dutch circle at the time. You can read more about her research of Stewart Alexander (also featured in the series) on the website of the author.
Founder
Suzanne is the founder of the Awaking Mediumship Method® and owner of the SoulWell.Academy is an online platform for Healing and Awakening & Mastering your hidden powers.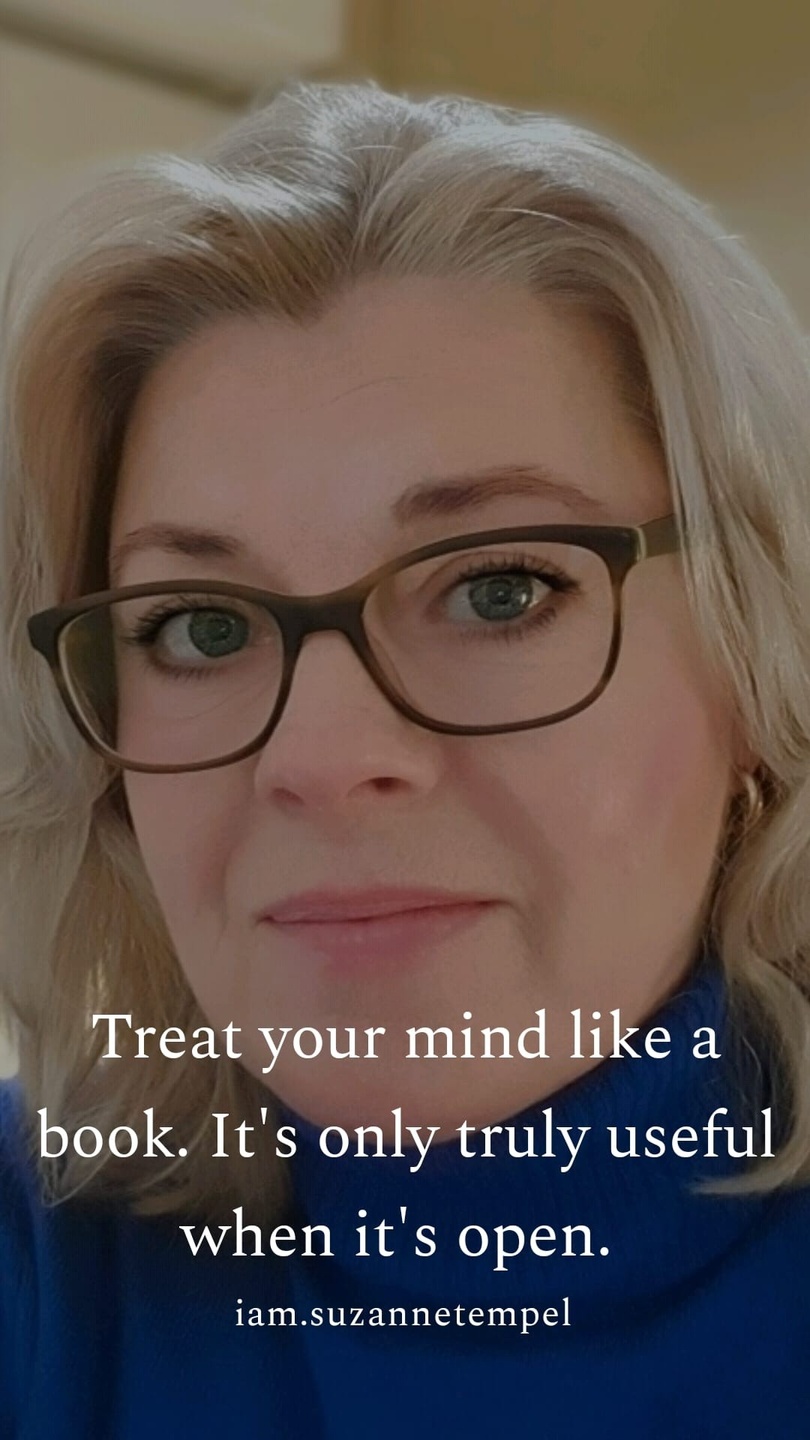 The Mediumship program
The program has different levels. It indicates your level of experience rather than your mediumistic abilities. These are the different levels:
Starter (1,2 and 3)
Explorer
Trainer
STARTER LEVELS:
Level 1 is a theory course that you can watch whenever that is convenient for you. These are all recorded sessions.
Level 2 can be done next to 1 (so at the same time) or after level 1. Starter level 2 is a practical course with recorded and live sessions.
And level 3 is bookable if you have finished levels 1 and 2. People with 1 year of experience (somewhere else) can enroll in the Starter Level 3 course without Starter Level 2. Level 3 is an all-live course.
EXPLORER LEVEL:
If you have completed Starter level 3 you can now move on to Explorer level. Explorer Level is a mixed-level course. That means that the level of experience varies among participants.
If you enroll for the Explorer Level without prior experience in the Starter Levels (when you have done some training elsewhere) you need to subscribe for Level 1 as well. This is a Theory course that you need to take so you have a basic understanding of terms, definitions, and consciousness development.
TRAINER LEVEL:
In 2022 there will be no Trainer level yet. This program started in 2021.
How to choose the right level?
When do you choose Starter Level 1 (theory) and Starter Level 2 (practical)?
If you have

no experience with Mediumship (courses or training)

in the past.

If you have

not done more than 2 courses in Mediumship (weeks or weekend courses).
If you have done

3 or 4-week courses

but the last course you took is

more than 2 years ago.
When do you choose Starter Level 3?
If you have

finished Starter Level 1 and 2
If you have

done 1-year training

in Mediumship somewhere else
If you have done up to 5-week courses

somewhere else
When do you choose Explorer Level?
After you

finish Starter Level 3

you choose Explorer Level
The Explorer Level is also open for people who have done some courses on Mediumship in the past with other teachers or tutors ( 2 years of experience or more).
When do you choose Trainer Level?
In 2023 there will be no Trainer level yet. This program started in 2021.
Why you should participate
If there is a longing inside to find out if you are a Medium; you are on the right path. You just have to trust that feeling.
Everyone is welcome. Online training gives everyone in the world the opportunity to join. This is the reason the lessons will be in English. The level of English spoken will be easy to follow for most people. You will meet like-minded people from all over the world and this often results in friendships for life. Finally, you will meet people who understand and have similar experiences.
Testimonials
Listen to the sample of Starter Level 1:
" Before you can touch the spirit, you must first find it within yourself. For all the truth, all knowledge, and all loving must first be found within oneself. "
- Gordon Higginson -
A quote from one of the great Mediums and pioneers of the 20th century Gordon Higginson. And exactly the reason why AM awareness training and Mediumship are a strong combination. Mediumship stagnates without consciousness development.
Mediumship is working with altered states of consciousness. The research into states of consciousness of mediums was very valuable. It allowed Suzanne to see what happens in Mediumship development. She combined this with the knowledge of how to train those different states (Neurofeedback) and her knowledge of mediumship. This gradually resulted in a new method for Mediumship development: the Awaking Mediumship Method ® (AMM). In 2021 the first ONLINE Mediumship course with this method started.
Go to the SoulWell.Academy